PROJECTS
"We would first and foremost love to thank all of you from the bottom of our hearts for the support and love that you have exhibited towards the Dream Family. You are a gift to us from God. We are truly grateful for standing with us. In the last few years a lot of things have changed within the home. With donations, physical help and environmental knowledge we were able to improve our daily life and our living conditions. But there are still many things to do!
This year, after having a meeting with the Dream Children's Home Board members, we came up with a list of short term and long term projects which we would love to undertake, that will really help in running this Home even more efficiently. Kindly feel free to take a look at them. You are welcome to donate towards any of these projects through betterplace. Your contribution, whether great or small is totally significant and highly appreciated. If you have some new ideas or knowledge to change and improve our home just contact us!"
- Yours Sincerely, Rachel -

NEW WELCOME CREW (Project in 2016)
Our entrance is covered with new buddies. Simba, Timon und Pumbaa welcome all our childrens, friends, family and visitors. Hakuna Matata!
TRANSPORT AVAILABLE - THANK YOU ALL! (Project in 2016)
We are proud of our new and first (!) car. Finally we are able to bring in food by ourselves.
THE SCOOL IS GROWING! WE ARE BUILDING NEW CLASSROOM FOR ST.HELENAS SCHOOL AGAIN (Project in 2014)
Since a really generous german couple helped us in the beginning of 2014 with some fundraising we are in progress of building two new class-rooms for the upcoming school year. And here we go: the new class-rooms are done and we are happy to use them in 2015. Thank you for everyone who helped and supported us in this project.
EXTENDING THE SHED (Project in 2014)
We are constantly trying to improve our economic situation. The main goal is to become more and more self-sufficient. Therefore we improved the shed. With two new cows, which give way more milk than our old ones we are able to collect more milk while staying low in costs for animal food. We will focus on this in the future and try to buy more cows out of the money we earn from selling their milk.
RENEWING THE SANITARY SYSTEM (Project in 2014 - still running)
...text has to be completed...
DRINKING WATER STATION (Project in 2014)
Since a long period of time we tried to figure out how we could provide the children with clean drinking water. Since a borehole would have been to expensive in construction we decided to built a huge water tank (as you can see below) and on top a small drinking water tank. This drinking water is rainwater, filtered and chlored. The children accepted it quite well and so we all hope that we won't have to deal with stomache diseases anymore.
NEW WATER SUPPLY (Project in 2013)
NEW CLASSROOM FOR ST.HELENAS SCHOOL (Project in 2013)
We are very happy that our own school next to the orphanage is still growing. Last year we managed to finish the building and we are now able to teach the children from the home with teachers we choose and they also don't have long ways to school, which is important especially for the younger children.
NEW PATHWAY TO THE ORPHANAGE (Project in 2012)
Due to the help of so many lovely people donating on betterplace the home was able to repair the dirt road up to the Home. The children and all the visitors are happy about the first rainy season without struggling coming up and down the hill.
WE WERE ABLE TO PAY THE SCHOOL FEES OF OUR SECONDARY CHILDREN FOR THE WHOLE YEAR 2012!
Thank you very much for supporting our children in education. We were able to pay the school fees for the whole year for Hannah Wambui, Samuel Ndegwa Njambi, Margaret Wangui and Allan Njoroge.
FENCING AROUNS THE HOME FOR MORE SECURITY (Project in 2012)
With the help of so many nice people donating on betterplace Rachel and Steven were finally able to finish fencing the home. As the Home was not surrounded by a fence, there was no security around the home. Now the children and everybody else is able to feel save at Home - especially at night times.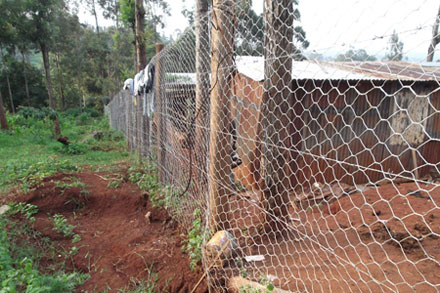 FOR A MORE SUSTAINABLE HOME - THE BIOGAS SYSTEM IS WORKING (Project in 2011/12)
Due to the help of a British charity Dig Deep (1121493) and the outstanding work of Jennie Nicholls and Rebecca Fawssett in 2011 we were able to build a biogas-system which provides our home from now on with biogas. You can easily have a look into the report of this project here.
ACCOMMODATION IN STABLE DORMITORIES (Project in 2011)
The Bank of Kenya donated two new dormitories to our children. Thank you very much for your help!
SAINT HELENA PRIVATE SCHOOL (Project in 2010/2011)
The home shelters a lot of small children who were forced to walk very long distances to their nearest public school. These had medical implications as children get infections during rainy season as well as high risk of getting knocked down by speeding vehicles on the road. We are therefore very happy to announce that our school opened in 2010! We would like to thank every single supporter!
COW BARN (Project in 2011)
Safaricom donated a new cow-barn. We are very happy about your help. Thank you very much.
LIBRARY (Project in 2010)
The reading culture among the children is improving but to cultivate it to better levels we needed a good reading room library. in 2010 we were supported by Mr Wagener who donated shelves, more books, tables and chair to us. Thank you very much for your support